How do you make the urban core a more vibrant place to live, work, and play? Members of the Urban Revitalization Council of the Urban Land Institute (ULI) discussed ways to catalyze investment and development in the urban core, the demographic factors that influence the popularity of urban living, and how different sectors of the real estate market are currently thriving in the urban core. Featured alongside fellow urbanists James Moore, Janet Protas, Claudia Sieb, and Charles Werhane, Libby Seifel provided insight into using a combination of public and private resources to bring an area back from deterioration.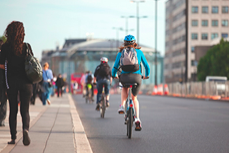 "The last mile from transit is critical," Libby says."People want pedestrian- and bike-friendly paths between housing and the transit stop. Urban core areas that are able to achieve this will be extremely successful."
Click here for further insightful strategies provided by ULI urbanists.