Etsy, the online global marketplace for artists, artisans and collectors, is transforming how people around the world connect to buy and sell unique goods. Etsy currently boasts over 40 million members and is active in 200 countries with annual transactions.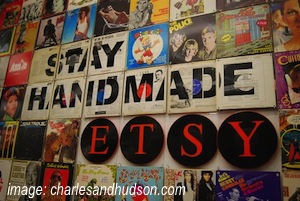 Etsy's mission is to re-imagine commerce in ways that build a more fulfilling and lasting world. Etsy practices its mission in all it does and in its work environment. Etsy is headquartered in Brooklyn, in the affectionately-named neighborhood of "DUMBO" (short for "down under the Manhattan Bridge overpass"). The company lives its mission, as ULI members saw firsthand during a recent tour of Etsy headquarters at the finish of the ULI Fall Meeting & Urban Land Expo (held this year in New York City).
Coordinated by Janet Protas and Libby, the private tour offered ULI women the opportunity to see the daily workings of the online commerce company that boasted over $1 billion total merchandise sales in 2013. ULI members also got a chance to meet Etsy's public policy group to learn about Etsy's mission to help disadvantaged crafters become successful Etsy sellers.
Etsy is increasingly promoting and training local manufacturers and artisans across the country to sell their goods on line. SFMade, one of Etsy's key local partners, boasts a similar mission in building and supporting a vibrant manufacturing sector in San Francisco. Former Seifel staff member, Abbie Wertheim, is working with Etsy to coordinate national efforts to support manufacturing with the Urban Manufacturing Alliance.
Our mission is to re-imagine commerce in ways that build a more fulfilling and lasting world. - Etsy