The San Francisco District Council of the Urban Land Institute (ULI), in conjunction with the four other ULI California district councils, recently issued a report recommending a comprehensive set of tools to promote economic development and build sustainable and healthy communities. "In light of the demise of redevelopment in California in 2012, we need leadership at all levels of government to put in place a more flexible set of tools, without creating a financial burden on the state or other taxing agencies" said Elliot Stein, executive director of the ULI San Francisco District Council.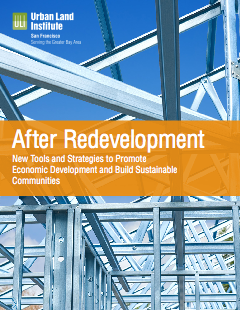 At the top of the list of recommended tools in the report "After Redevelopment: New Tools and Strategies to Promote Economic Development and Build Sustainable Communities" are the ability to assemble sites and negotiate sales, use tax increment financing on a voluntary basis by affected taxing agencies, and deploy these tools with local control, flexibility, and accountability. "One critical 'fix' needed is for housing," said report co-author Joseph E. Coomes of Best & Krieger, Sacramento. "California's population is growing faster than the supply of housing. In particular, the amount of multifamily housing, which is more affordable to the state's workforce and growing senior population, is not keeping pace. Access to affordable housing, job opportunities and quality education are critical components of any economic development strategy." The report provides a series of targeted recommendations and calls for future discussion with State officials and key stakeholders on how to best deploy new tools in 2014.
Libby Seifel volunteered on ULI's working group and served as the lead editor on the report (available here).