The "sharing economy," also known as the collaborative economy or peer economy, has grown from informal connections between people who share what they already have—cars, homes, tools, skills–to an emerging, multi-billion dollar business sector that is facilitating millions of "collaborative consumption" transactions across the globe each day. Utilizing technology and social media to connect suppliers and consumers, companies such as Airbnb, City CarShare, Lyft, RelayRides, Shareable, Taskrabbit, Vayable, ZipCar— many of whom are headquartered in San Francisco—are also creating an increasing number of jobs and economic benefits to the local economy.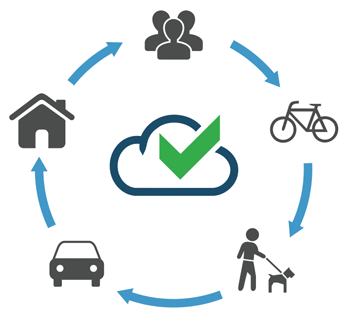 San Francisco recently announced the nation's first-ever policy group aimed at evaluating the economic benefits, key players, and emerging policy issues surrounding the growing "sharing economy". Headed by Mayor Ed Lee and comprised of Board of Supervisors President David Chiu and Supervisors Mark Farrell, Jane Kim, and Scott Wiener the group will consider the implications of the sharing economy on San Francisco. "The Sharing Economy is promoting sustainability and creating new economic opportunities for San Franciscans across the socio-economic spectrum," says Chiu. "It's time for San Francisco to take a comprehensive look at our existing laws and regulations to consider this innovative new economy's benefits while addressing real community impacts and concerns."
On Tuesday, June 10, San Francisco Planning & Urban Research (SPUR) and Airbnb presented an evening discussion "Empowering the Local Economy", hosted by Airbnb and sponsored by the Koret Foundation. This sold-out event featured five panelists—including Seifel President Libby Seifel—who explored how policymakers and citizens alike are taking part in this new manifestation of local economic activation. Panelists included:
Libby Seifel spoke to the implications and opportunities that the sharing economy has for San Francisco, how this new economic activity makes use of "surplus capacity", and ways in which San Francisco can respond to the changing nature of the local economy. Libby also pointed to SPUR's The Urban Future of Work for its exploration of strategies for expanding San Francisco's economy while focusing on sustainability.
More on this SPUR event is available here.
Collaborative consumption is reinventing the way we live–and San Francisco is at the epicenter of the movement. This has the potential to be a source of great economic strength, as we translate our urban efficiency and creativity into new tools that the rest of the country can benefit from.
-Gabriel Metcalf, Executive Director, SPUR