The May 9 Legislative Policy Breakfast, hosted by Housing Leadership Council (HLC) brought together advocates and experts alike to share best practice tips and advocacy ideas for affordable housing in San Mateo County. Since 2001, HLC has supported the creation and preservation of well designed, sensibly located housing for a range of income levels through collaboration with a range of San Mateo County partners (local governments, non-profit organizations and businesses).
State Senator Jerry Hill (California Senate, 13th District) and Marina Wiant (of California Housing Consortium) shared insights into State and National legislation that could provide funding for affordable housing and enhance housing production, leading discussion on why some legislation would likely become law while others might not. Senator Hill and Ms. Wiant emphasized the need for continued, coordinated advocacy (by groups like HLC) to make the case for why a diverse spectrum of housing is critical to future success of California.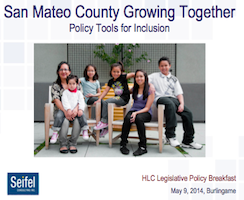 Phillip Kilbridge (CEO at Habitat for Humanity Greater San Francisco) presented a lively overview of the trials and tribulations of local developers who have had to go "Light & Fit", learning how to develop in the face of declining revenues. Libby Seifel provided a fast paced overview of current housing financing tools available to communities (in post-Redevelopment California) with particular focus on the challenges and opportunities of using Infrastructure Financing Districts (IFDs) to help fund development. Libby asked audience members to review recommendations from her recent volunteer effort with ULI to promote new funding tools and strategies for infill development and affordable housing in California. ULI recently described affordable housing as one of the central elements to building healthy places in its Ten Principles of Building Healthy Places, and Libby offered ideas about how to promote this concept more broadly throughout San Mateo County.
"The more successfully a city mingles everyday diversity of uses and users in its everyday streets, the more successfully, casually (and economically) its people thereby enliven and...give back grace and delight to their neighborhoods instead of vacuity."
- Jane Jacobs, The Death and Life of Great American Cities