Since 2017, members of our local San Francisco District Council of the Urban Land Institute (ULI SF) have been working hard to foster innovative solutions to the Bay Area housing crisis through ULI SF's Housing the Bay initiative.
Housing the Bay has brought together partner organizations, industry and public sector leaders, and global experts to share bold ideas and strategies to catalyze healthy, sustainable, and affordable housing options for everyone who lives and works in the Bay Area. Our members and partners have co-created three well-attended Summits and numerous lead-up events, tours, and workshops focused on breaking down barriers and finding lasting housing solutions for the Bay Area.The third Housing the Bay Summit was held virtually on September 15, 2020 with musical interludes from jazz musicians associated with the SF Jazz Center. The 2020 Summit opened with an insightful discussion regarding transformative solutions to bring about systemic change moderated by Tomiquia Moss, Founder of All Homes in conversation with Melissa Jones (BARHII), Jeff Tumlin (SFMTA) and Kate Gordon (California OPR). Deanna Van Buren, Co-founder of Designing Justice + Designing Spaces, spoke about her work to harness the power of the built environment to counter societal inequities. Three Bay Area start-ups pitched their technologies and business plans to increase housing production and increase housing options. The 2020 Summit also featured two thought provoking panels about current and future housing initiatives with statewide leaders such as California Assemblymember David Chiu, Assemblymember Buffy Wick and Governor Newsom's Senior Counselor on Homelessness, Jason Elliot, as well as Bay Area leaders of the "3Ps Housing Plan," Fred Blackwell (SF Foundation), Denise Pinkston (TMG) and Linda Mandolini (Eden Housing). San Francisco's Mayor London Breed did an inspiring closing keynote.
Last year's 2019 Summit featured inspiring presentations by Dr. Michael McAfee, CEO of Policy Link, Calvin Gladney, CEO of Smart Growth America, Tyrone Poole, Founder and President of One App and Lisa Bender, President of the Minneapolis City Council. A diverse group of innovators and entrepreneurs did lightening round presentations of their innovative solutions to address our housing challenges. The Summit's closing panel featured a dynamic panel of four California mayors who are working hard to address housing solutions in their cities.
To date, ULI San Francisco has held three Housing the Bay Summits, and our members and partners have co-created nearly two dozen lead-up events, tours, and workshops to break down barriers and take steps toward finding lasting housing solutions for the Bay Area.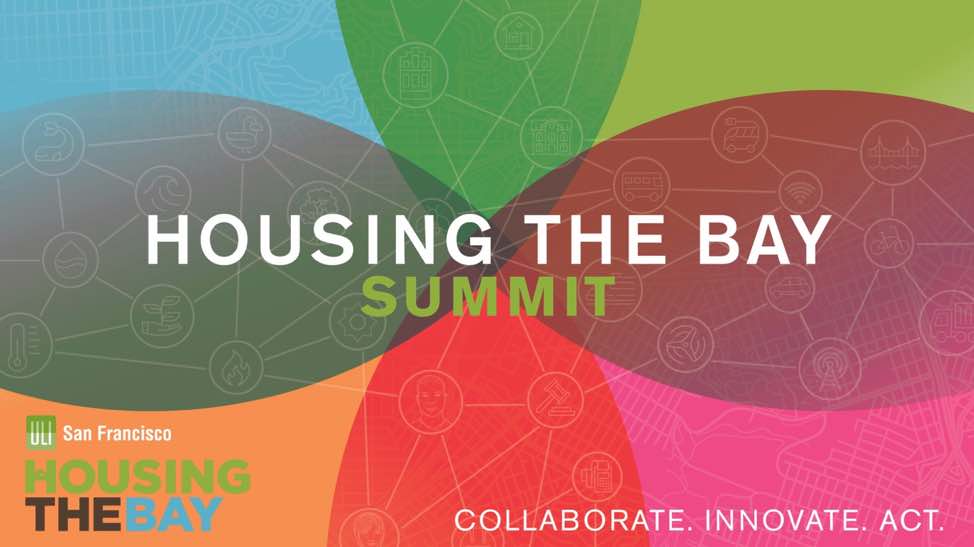 The ULI SF Housing the Bay Steering Committee is co-chaired by ULI members Eric Tao of L37 Partners/AGI and Libby Seifel of Seifel Consulting.