Details
Silicon Valley, the heart of California's technology hub, is perceived as a desirable place to live and work. However, many of the workers who keep Silicon Valley's economic engine moving forward are unable to afford homes in the very communities in which they work.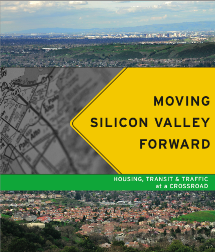 NPH and Urban Habitat recently published Moving Silicon Valley Forward – Housing, Transit and Traffic at a Crossroad, a report that explores the economic, housing, and transportation challenges in Silicon Valley.
Moving Silicon Valley Forward shows that "contrary to popular perception, the average commuter into Silicon Valley is not the highly paid technology worker. More than 45 percent of in-commuters into San Mateo County earn less than $40,000 per year."
Enduring longer commutes leaves lower-to-middle income workers with little money to cover other essential costs of living. Longer commutes also contribute to congestion and greenhouse gas emissions. Moving Silicon Valley Forward outlines crucial next steps to help preserve and develop affordable housing (particularly near transit), improve transit funding and service, and incentivize transit use by workers and residents.
Seifel Consulting, in collaboration with Nelson/Nygaard, provided economic, demographic and transit research for the report (available here).