Details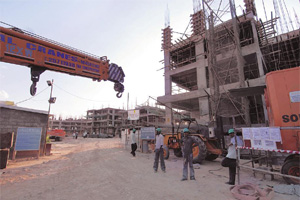 Libby Seifel joins the International Knowledge Team presenting at the "Practical Solutions for Delivery of Affordable Housing" conference in New Delhi, India, this November 30. Sponsored by India's Ministry of Housing & Urban Poverty Alleviation and the Royal Institution of Chartered Surveyors (RICS), the conference will be an international review of affordable housing delivery, identifying best practice examples that have maximized the amount of affordable housing that can be generated with limited resources.
As background for conference participants, Seifel worked with the International Knowledge Team to prepare RICS' research paper Making Affordable Housing Work in India, which looks at previous research on the housing dynamics in India (and frameworks in comparable cities) and outlines key initiatives being undertaken by the Indian Government. The paper also examines the issues requiring immediate Government intervention. Click here for a copy of RICS' paper.
The adjustment of housing markets worldwide has called into question the viability of current policies and strategies. Consideration is being given to new and more creative delivery and partnership models to satisfy the increasing need for affordable housing worldwide.
International speakers will help set the scene for the conference, utilizing considerable experience in successful housing programs and giving examples where roadblocks to delivery were overcome. Local speakers from industry and the government/urban local bodies will participate in panel discussions sharing their experiences and best practice of affordable housing projects and also highlighting any obstacles in the current system that may be slowing or even stopping project delivery. Audience participation will encourage the consideration and debate on different solutions, drawing up potential immediate and mid-term solutions. Conference speakers and panelists include:
Representatives from the Government of India
Kumari Selja – Honorable Minister of Housing & Urban Poverty Alleviation and Minister of Tourism
Smt. Kiran Dhingra - Secretary, Ministry of Housing & Urban Poverty Alleviation
Sh. S. K. Singh - Joint Secretary, Ministry of Housing & Urban Poverty Alleviation
Sh. R. V. Verma - Chairman and Managing Director, National Housing Bank
International Experts
Mr. Stuart Woodward - Managing Director, Levvel Ltd
Mr. Thomas Davenport - Director, South Asia, IFC/The World Bank Group
Mr. Stuart Thomas - Director, Terra Housing Consultants
Eminent Industry Speakers and Policymakers
Mr. Sanjaya Gupta - Managing Director, PNB Housing Finance Ltd.
Mr. Kumar Gera - Chairman, CREDAI
Mr. D.P. Srivastava - CEO, Affordable Housing Development
Mr. Pranav Ansal - Vice Chairman & MD, Ansal API
Mr. Firdose Vandrevala - Chairman & MD, Hirco Developments Pvt. Ltd.
Mr. Naveen Raheja - President - Housing Committee, ASSOCHAM