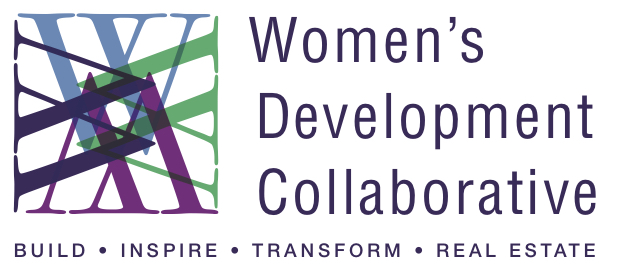 The Women's Development Collaborative (WDC) is a network of women leaders who inspire, promote and support women who lead transformative real estate developments. WDC's mission is to advance women's success, leadership, innovation and collaboration in building developments that sustain and create thriving communities. WDC's founding members and sponsors are committed to advancing WDC's mission and our collective capacity to champion and catalyze women-led developments.
---
Upcoming Fall 2018 Boston Women's Development Collaborative Program at the ULI Fall Meeting
Our WDC events will take place Monday evening 10/8, Thursday evening 10/11 and Friday morning 10/12
* Monday evening 10/8: Our inaugural WDC Leadership Workshop ("Leading the Way") will be led by Carol Murray (WDC Leadership Chair and Principal at The Lifework Institute) on Monday 10/8, likely starting at 7 PM, with a follow up leadership discussion on Friday 10/11 over lunch. Location and details TBD.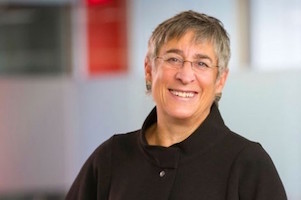 * Thursday evening 10/11: We are delighted to announce that Pam Goodman (CEO) and Dara Kovel (President) at Beacon Communities will be sharing their perspectives on leading one of Boston's largest residential real estate firms that has as its core mission "Living Well by Design." We will also tour the South End of Boston, with a special extended stop at Dahlia's Gallery, a wonderful studio and weaving shop featuring local, women-made artisan products and owned by Dahlia Popovits. Stay tuned for details, but our events will likely begin at the Convention Center around 4:30 PM (where we will start our tour) and end around 9 PM.
* Friday 10/12: Morning walking tour, likely beginning at 9:30 AM, of women-led Boston projects, followed by our follow-up WDC Leadership Lunch Discussion and optional afternoon activities.
Note:
Transportation for all WDC activities in Boston will be on foot and/or via public transit.
---
MANY THANKS TO OUR 2018 WDC SPONSORS AND FOUNDING MEMBERS!
Dorothy Alpert
Karen Backus
Mary Campbell
Kacey Clagett
Susan Connelly
Suzanne Corcoran
Amy Erixon
Terri Gumula
Juanita Hardy
Marty Jones
Madelyne Kirch
Ellen Klasson
Sandra Kulli
Allison Lynch
Mary McCarthy
Margaret M. McCauley
Molly McKay
Cindy McSherry
Carol Murray
Lucy O'Laughlin
Janet Protas
Cyndi Rottenberg-Walker
Wendy Rowden
Libby Seifel
Adrienne Teleki
Dana Trujillo
Ranne Warner
Marilyn Weitzman
Emma West
Michele Wheeler
---
WDC
began with a group of women gathering informally at the conclusion of the
ULI Spring and Fall Meetings
to build connections among women leaders and to showcase projects being developed by women in the host cities of the ULI Meetings. Many women are members of the ULI WLI National and/or Local Steering Committees and were part of the impetus of starting WLI. As WLI has developed into a wonderful place within ULI for women, the WDC network has continued to expand, as women have invited more and more women to join our WDC events, which now include a reception, tour and luncheon after the ULI Meeting that feature transformative development projects led by women.
---
Past Women's Development Collaborative Programs
WDC at the ULI Spring Meeting in Detroit (May 2018)
WDC wishes to to say a big "Thank you again!" to everyone who helped make our visit to Detroit so special and who shared their development and entrepreneurial stories:
Thursday Night
* Thank you to Melissa Dittmer, Veronica Rickett and Tamara Knapp of
Bedrock Real Estate
who developed Lofts at Merchants Row and are continuing to enliven Detroit through beautiful building restorations and well-curated retail
* Thank you Regina Gaines—owner of
House of Pure Vin
—for achieving her dream of House of Pure Vin and its amazing wine collection.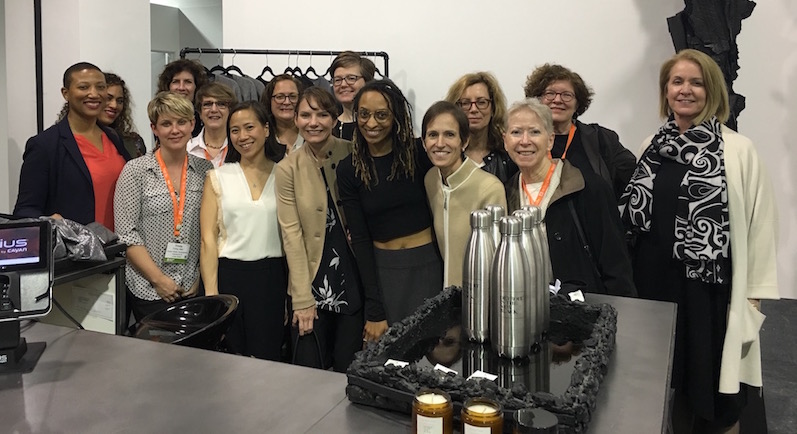 * Thank you Roslyn Karaoke—owner of
Detroit is the New Black
—for letting us "shop local" with an elegant, DITNB twist.
Friday Tou
r
* Thank you to our Friday speakers: David DiRita of
Roxbury Group
, Abir Ali of the
The Platform
, Kimberly Dowdell of
Century Partners
and Cecily King of
Live6Alliance
for sharing how their work is catalyzing new investment in Detroit.
* Thank you to Carolyn Howard—Owner and Developer of
Traffic Jam & Snug
, as well as other Detroit properties—for the delicious lunch and conversation.
* And a special thank-you to our event curator, Jeanette Pierce of
Detroit Experience Factory
, who not only shared her passion for Detroit but gave us an incredible perspective on its history and trajectory.
WDC at the ULI Fall Meeting in Los Angeles (October 2017)
Thank you again to all who helped make possible our activities at the ULI Fall Meeting in Los Angeles!
Thursday Night
* Thanks again to the
Ratkovich Company
for hosting us at the beautiful rooftop lounge at the top of
The Bloc
and for making such a special place to spend the evening overlooking downtown LA.
* Thanks to
Clare DeBriere
for doing such an amazing job moderating the often uncontainable, unpredictable, larger than life Magic Johnson!
* Thanks to
Coly Den Haan
, owner of
Vinovore
, for introducing us to
Oeno
, the wonderful wine that we all enjoyed that evening, and for telling us the inspiring story of how Vinovore was created. We hope you will buy Oeno and other wines by the fabulous women vintners that Coly features.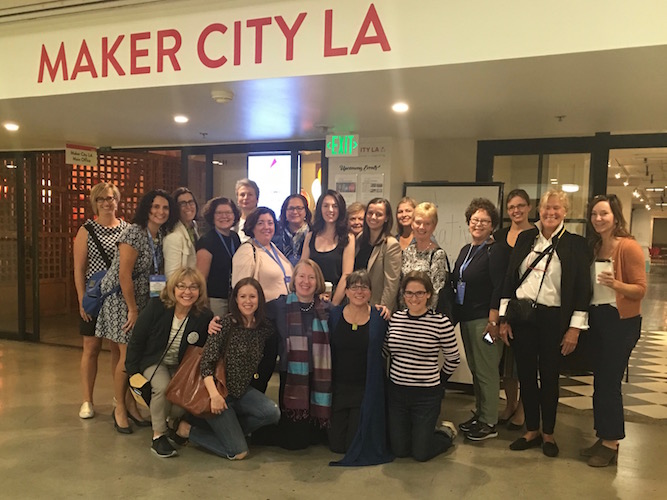 Friday Tou
r
* Thanks to Ava Bromberg, who showcased the vibrant activities at
The Reef
to bring together innovators, entrepreneurs and diverse creators in downtown LA. (Can't wait to hear about the next set of events that The Reef will host!)
* Thanks to Dana Trujillo for leading us through the innovative features of the award-winning
Star Apartments
by
Skid Row Housing Trust
, which provides supportive housing for formerly homeless individuals.
* Thanks to Amanda Loso for sharing the inspiring story of the friendship between two women that created the
Downtown Women's Center (DWC)
to help women overcome poverty and end homelessness, and for showing us what DWC is doing everyday to make this happen.
* Thanks to Adele Yellin for welcoming us to join in the 100th anniversary celebration of the
Grand Central Market
and for curating such an amazing group of restaurants that made our lunch so special.
* Thanks to
Metabolic Studio
and Lauren Bon for showing us how art can both inspire and create change through the
Bending the River Back to the City
, among many other projects. As the studio's sign says:
Artists need to create on the same scale that society has the capacity to destroy
.
---
CONTACT US
We would love to hear from you! For more information on the Women's Development Collaborative,
This email address is being protected from spambots. You need JavaScript enabled to view it.
.
And be sure to check us out on
LinkedIn
.