Client: San Francisco Planning
San Francisco's Japantown neighborhood is one of three recognized Japantown communities nationwide and is home to a mix of locally owned and family-run businesses and service providers. The Japantown community, in collaboration with the City's Planning Department and Office of Economic and Workforce Development, sought to develop a long-term vision for the neighborhood. Building off the 2009 Japantown Better Neighborhoods Plan, the planning effort focused on economic development, physical improvements and the preservation and enhancement of historic and cultural uses and buildings.
Seifel worked with the Planning Department, the Japantown Organizing Committee and other community stakeholders to research and analyze available tools that could be used to recognize and preserve Japantown's social heritage and historical assets. After evaluating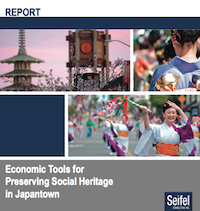 the feasibility of various tools, Seifel participated in a number of community meetings, soliciting community input to help craft a toolkit for economic and other tools for preserving social heritage in Japantown.
In the Fall 2013, the Historic Preservation Commission, Planning Commission and Board of Supervisors adopted the Japantown Cultural Heritage and Economic Sustainability Strategy (JCHESS). Legislation has been drafted that would create the Japantown Neighborhood Commercial District along those portions of Post and Buchanan Streets that are reflective of Japanese and Japanese American culture and commerce, and Design Guidelines for this area are being prepared. The Japantown Task Force has re-formed into a community nonprofit charged with fulfilling the vision and goals of JCHESS.
Seifel's "Economic Tools for Preserving Social Heritage in Japantown" and Japantown other resources can be found
here
.