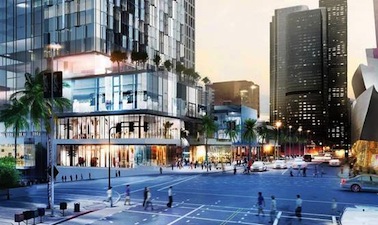 Client: Community Redevelopment Agency of the City of Los Angeles

The Grand Avenue Project is an ambitious revitalization project undertaken by the Los Angeles Grand Avenue Authority, a joint powers authority comprised of the former Community Redevelopment Agency of the City of Los Angeles (CRA/LA) and Los Angeles County, with the support of a variety of public, private, nonprofit and community stakeholders. The Grand Avenue Authority selected the Related Companies as master developer for the project. Joining forces with architect Frank Gehry, Related's plans include residential, hotel and retail components as well as a park, open space and public space.

Seifel advised CRA/LA on the Grand Avenue project, providing real estate and financial advisory services. Seifel performed pro forma analysis and due diligence on the proposed development, documenting findings and concerns for the Agency. We recommended funding strategies for the project's public infrastructure and parking facility. Our due diligence work clarified project cost and revenue assumptions and resolved inconsistencies within Related's pro forma.

Seifel also conducted a public revenues analysis, estimating the potential revenue to the City of Los Angeles generated by the retail, hotel and residential components of the Grand Avenue project. Seifel projected revenues accruing to the City's General Fund from sales tax, business tax, utility tax, real property transfer tax, and residential development tax and presented findings to key City and Agency stakeholders. CRA/LA and the City used this public revenues analysis to evaluate an appropriate level of financial participation in the project, ultimately deciding to invest $24.4 million in affordable housing and public improvements on the Grand Avenue site.
Construction on the Grand Avenue Projet in scheduled to start in 2015, with completion expected for 2019.
Image credit: LA Times